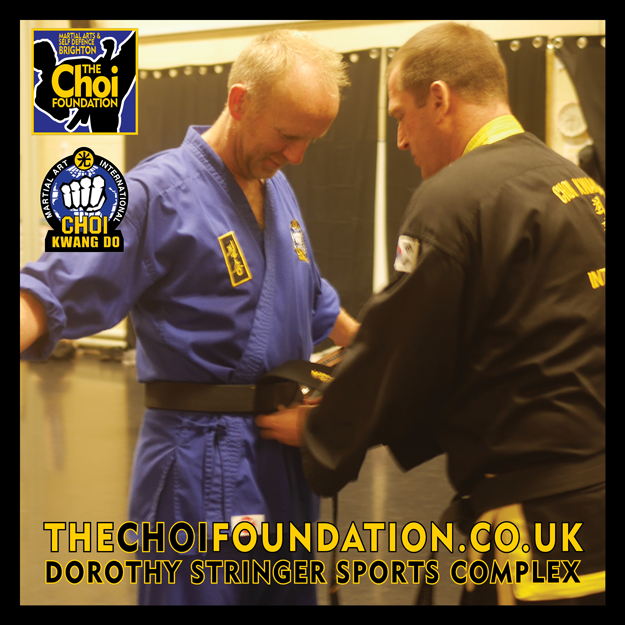 A proud moment after a two hour grading class
Congratulations to father and son for grading together and achieving your black belts.
"…Choi Kwang Do is not designed for competition and does not have the intensity of sports training. The system is meant for the average individual who wants to learn real-life, practical self-defense skills and achieve a greater level of health and well-being, not people solely interested in winning trophies. Because it's a noncontact, nonfighting, noncompetitive art that stresses mental, physical, emotional and social development, Choi Kwang Do promotes nonviolent resolutions to conflict, practical solutions to cardiovascular improvement, and enjoyable methods of exercise. In addition, with competition removed, students can continually develop—not against each other, but with each other. With a progressive system from White belt to highest level of Black belt, Choi Kwang Do always offers you something new and challenging to learn, experience and enjoy.…" says Choi Kwang Do website
At Dorothy Stringer Sports Complex Loder Road, Preston, Brighton
or phone Robert 07738608447
Text Robert on 07738608447 and book your FREE trial class for next Monday or Thursday evening. We look forward to meeting you.

"Choi is good exercise and it's more engaging than going to a gym, but more importantly I'm learning vital self defence skills...
"A great way to de-stress and a great way of getting some exercise and regaining some energy…
"I like Choi because it keeps you fit and also teaches you to protect yourself in a real life situation…
"I like Choi because its fun and good exercise…