The Choi Foundation Martial Arts student reviews and testimonials

From students and parents:
"I did just want to say again what a fantastic job I think you are doing with our son. "Choi" is very much the highlight of his week, and it is doing wonders for his concentration and confidence. We are so PROUD of him and so grateful of the opportunities you are affording him. It would be true to say that your classes are an inspiration. It is incredible to me the respect and attention the children in the class have. Wonderful!"
Professor Jon May, Green Belt, 2013
---
"My 8 year old son has been attending classes for 6 months now and has gained a great deal of self control and confidence. He has progressed from white belt to white senior, and was very proud to attain yellow belt last week. I believe that self-defence is such an important skill to learn. All members have huge respect for the Chief Instructor and his team and the disciplined approach is great for my son. It is also fun, he really looks forward to attending the sessions. Once my daughter gets a bit older, both herself and myself will be joining the family class. I would highly recommend Choi. I hope my son never has to use the skills he's learnt, but it is comforting to know that he can defend himself if he ever needs to. Thanks."
Helen, White Belt Senior, 2013
---
"Starting Choi has been the best decision of my life so far, without doubt. From my classes I have gained confidence, flexibility, strength and in school I can concentrate for longer, which is really helpful since I am going through my GCSEs. Also I feel I am being friendlier towards everyone since I can get out any anger in class in a safe way. I have been attending since February and knew I would like it from the first lesson. Everyone has been really friendly right from the start and I soon felt part of the community. I now attend classes three times a week, since it has become my biggest hobby and I have double graded at both of my grading's."
Adam Brown, Gold Belt, 2013
---
"I'm another parent who joined because her son wanted to. We have both gained so much. My son has been able to deal with a school bully with confidence and minimum aggression. I am so much fitter and for the first time in many years free of back pain. I also walk with confidence when out alone at night and no longer feel like an easy target. Would recommend this club to anyone of any age."
Teresa Ridge, Yellow Belt, 2013
---
"Like so many others, I joined after initially taking my youngest son along. Although I kept quite fit, my flexibility and stamina had suffered over the years. As I have attended the classes over the last year and a half the movements and exercises have been excellent and are very practical for my 'older' joints. Couple that with the practicality of this martial art in the real world, I would seriously recommend this to all of you that are fed up of sitting by the TV every night thinking about getting fit. Thank you." David Rowson, Gold Belt, 2013
---
My children have been having lessons at the Choi Foundation for the last year. The best thing for us is the personal interest Robert takes in their progression and follows up in any areas that need attention.
Dad of 2 (13 and 10 years),  Green Belt, Woodingdean, 2014
---
"The big bonus for me about Robert's classes is that they are mixed so I can do classes with my sons. One of my sons is slightly hesitant and not hugely confident and had previously tried out Karate classes but didn't enjoy this because of the confidence issue. However, as we attend Robert's classes together this has not been an issue and he loves it! Robert builds good relationships with both children and adults. His classes are also fun – not stuck in a strict and rigid routine."
Phil, Blue Belt, 2014
---
"We think the classes are brilliant. Both my son and daughter go to The Choi Foundation and my son started when he was around 5 years old (he is now almost 12). They both love it and it has made them extremely fit. As well as all of the martial art techniques, the sessions include yoga stretches and aerobic exercise and the kids really do work hard physically. We chose this particular form of marital arts as it is a non-combative (although it's excellent for self defence!) and this was really important for not confusing the children. It would have been difficult for them as little ones to understand they can fight in the evening but not at school. My son is now a black-belt and this is a massive achievement – he can really see his own progress. I think the classes are brilliant as they mix boys and girls and even generations. Parents sometimes train with their children too. My kids have gained lots of self-esteem and physical skills through these classes and have an inner confidence that they know they can deal with anything that comes their way."
Vicki, Mum of two in Brighton, Yellow Belt, 2014
---
"I've been learning Choi Kwang Do in Brighton for about 2 years now and would recommend it to anyone who wants to get fit and learn practical self defence skills in a friendly environment. All ages are welcome as my 10 year old daughter does it with me too. The instructors are excellent and bring a wealth of experience to the school while being committed to helping you achieve your goals and have fun along the way. Choi heightens your confidence, focuses your mind and allows you to take control of situations in a positive way. You'll soon begin to feel the benefits from this great martial art."Matt, Brown Belt, 2014
---
"First session done and loved it!! Rob is a great teacher with alot of passion. Learnt so much in just 1 hour!! Will be keeping this up for sure!!"John Wood, 2015
---
"Robert is an excellent instructor with lots of patience. I really enjoy my Choi classes, its now part of my life. It's not just an exercise class for 'undoing' those shoulder knots and back pain! Punching and kicking is a excellent stress relieve, with that added bonus of keeping fit at the same time. Choi also gives me lots of confidence, and praise I don't get anywhere else. Grading is fun and rewarding and sets achievable short and long term goals. Class is a very friendly place and I have made lots of new friends. Our chief, Mr Tanswell is very understanding of everyone's physical differences or moans."
Sarahjane Jackson, Black Belt 2015
---
"Choi is good exercise and it's more engaging than going to a gym, but more importantly I'm learning vital self defence skills. New students are made very welcome here and I've made some great friends. If you're wondering whether a martial arts class is right for you, I definitely recommend giving it a go."
Clare Laity, Black Belt 2015
---
"I still can't believe that I am a Black Belt! I also don't believe that anyone other than Rob would have had the patience, persistence, endurance, innate teaching skills and good humour to have got me here. As someone who used to loath doing any sort of sport, I'm amazed (and so are my friends and family) at how much I look forward to classes twice week. For me, Choi is a great fun way to boost confidence, boost energy levels and to do sport without realising it."
Carol Bullock, Black Belt 2015
---
"Talented and essential training, keeps you fit, motivated and knowledge of self-defence."
Katherine Wilson, 2015
---
"I enjoy Choi because it is a great exercise and it is also a good place to make friends."
Helena, aged 11, Orange Belt, 2016
---
"My son Louis started Choi just before Christmas, he thoroughly enjoys the classes and has helped him to control his emotions, he has type 1 Diabetes and his blood sugars sometimes make him a little fiery, he has just passed his first grading and am very proud of what he is achieving."
Anela Poppins Angel, 2016
---
"I have been attending Robs classes for 3 years, initially with my son (now 14 years old), and subsequently also my daughter, now aged 10. I started the classes hoping that it would help with the pain in my lower back. It has worked very well; the exercises have strengthened my core muscles helping to support my back. But I also really enjoy going to the classes, I look forward to them twice a week. They are a great way to de-stress and a great way of getting some exercise and regaining some energy. My kids both love coming to the classes as well, they have made new friends and it has given them both greater self-confidence. Rob runs the classes with a good balance of discipline and fun, and each grading gives us all a real sense of achievement. All the instructors are friendly, helpful and encouraging. I recommend the Brighton Choi Foundation classes to anyone who wants to get fitter and learn self-defence."
Alex Pilsworth, Blue Belt, 2016
---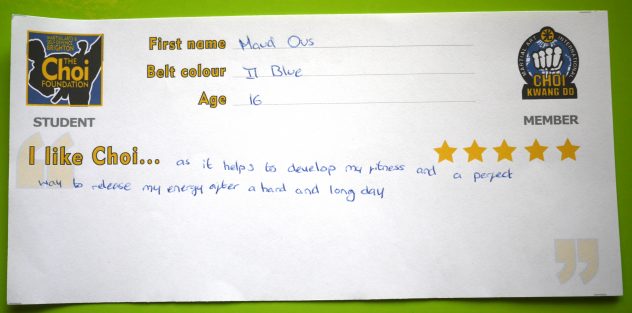 "I like Choi as it helps to develop my fitness and a perfect way to release my energy after a hard long day."
Maud, Ous Black Belt, Blue Tag, 2016
---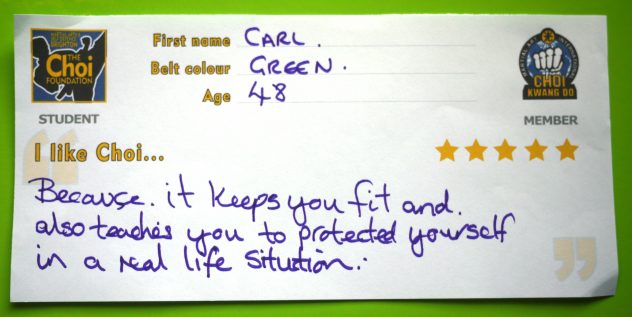 "I like Choi because it keeps you fit and also teaches you to protect yourself in a real life situation."
Carl, Green Belt, aged 48, 2016
---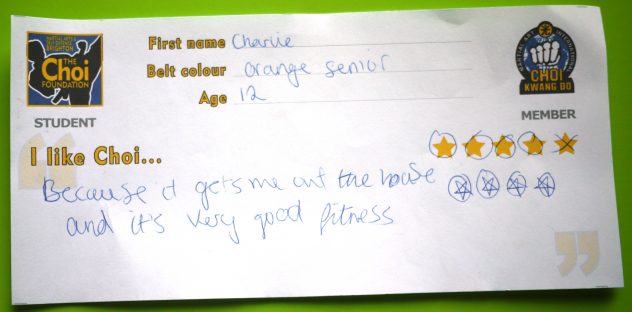 "I like Choi because it gets me out of the house and its very good fitness."
Charlie, Orange Belt Senior, aged 12, October 2016
---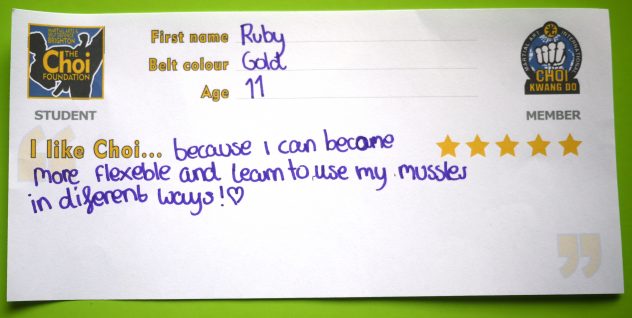 "I like Choi because I can become more flexible and learn to use my muscles in different ways!"
Ruby, Gold Belt, aged 11, October 2016
---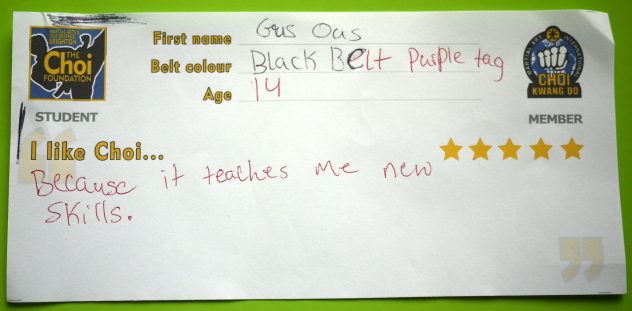 "I like Choi because it teaches me new skills.
Gus, Back Belt, Purple Tag, aged 14, October 2016
---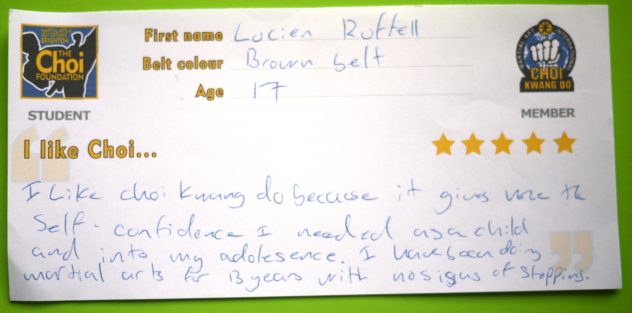 "I like Choi because it gives me the self-confidence I needed as a child and into adolescence. I have been doing martial arts for 13 years with no signs of stopping!"
Lucien, Brown Belt, aged 17, October 2016
---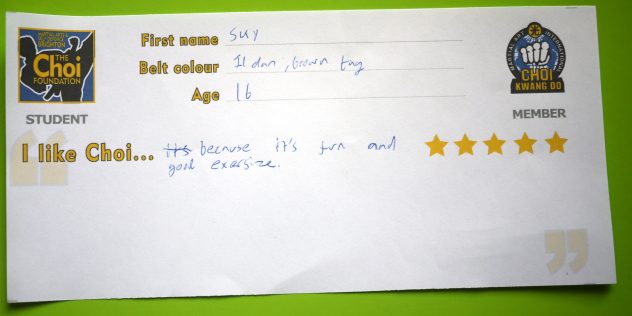 "I like Choi because its fun and good exercise"
Sky, Black Belt, Brown Tag, aged 16, October 2016
---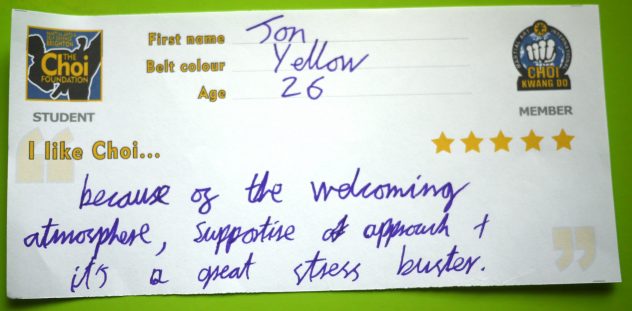 "I like Choi because of the welcoming atmosphere, supportive approach and its a great stress buster."
Jon, Yellow Belt, aged 26, October 2016
---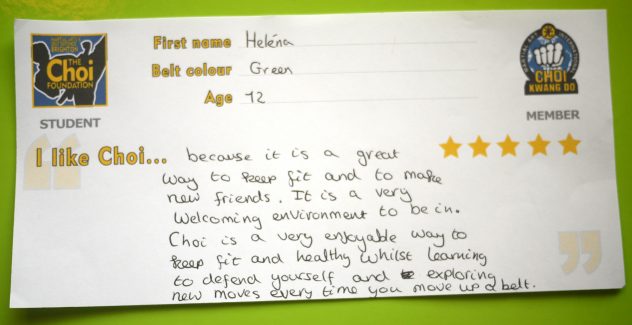 "I like Choi because it is a great way to keep fit and to make new friends. It is a very welcoming environment to be in. Choi is a very enjoyable way to keep fit and healthy whilst learning to defend yourself and exploring new moves every time you move up a belt."
Helena, Green Belt, aged 12, October 2016
---
"I like Choi because it is teaches me to defend myself in bad situations"
Toby, Orange Belt, aged 12, October 2016
---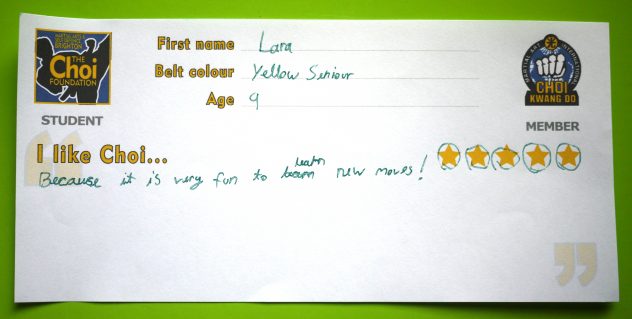 "I like Choi because it is very fun to learn new moves"
Lara, Yellow Senior Belt, aged 9, October 2016
---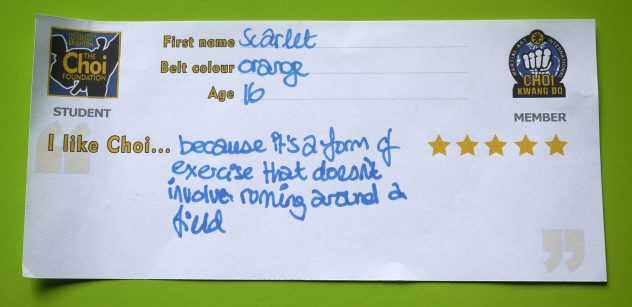 "I like Choi because it's a form exercise that doesn't involve running around a field"
Scarlet, Orange, aged 16, November 2016
---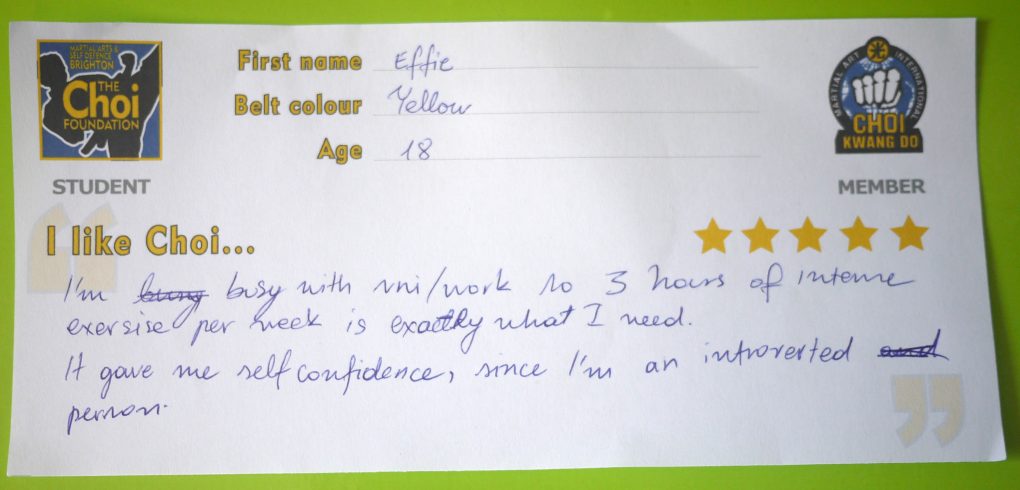 "I like Choi I'm busy with university and work so 3 hours of intense exercise per week is exactly what I need. It gave me self confidence, since I'm an introverted person."
Effie, Yellow, aged 18, August 2017
---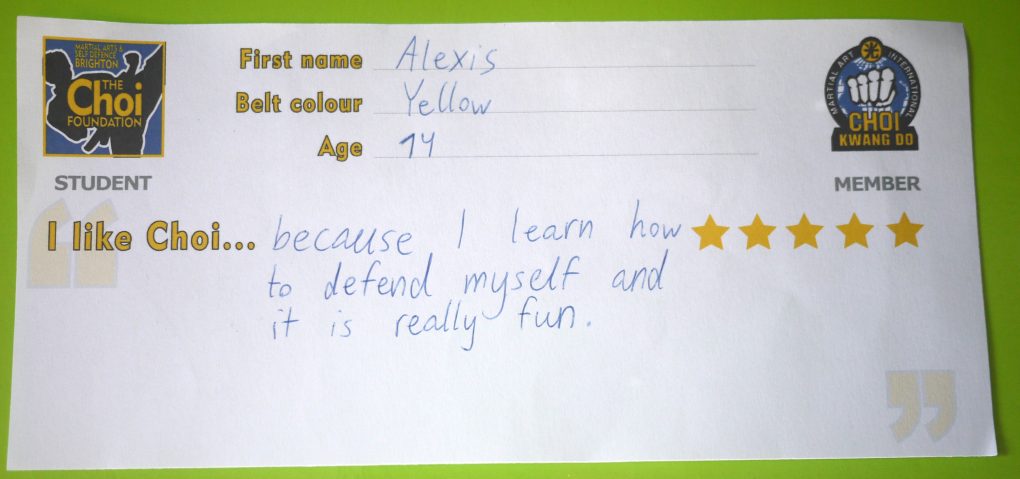 "I like Choi because I learn to defend myself and it is really fun"
Alexis, Yellow, aged 14, August 2017
---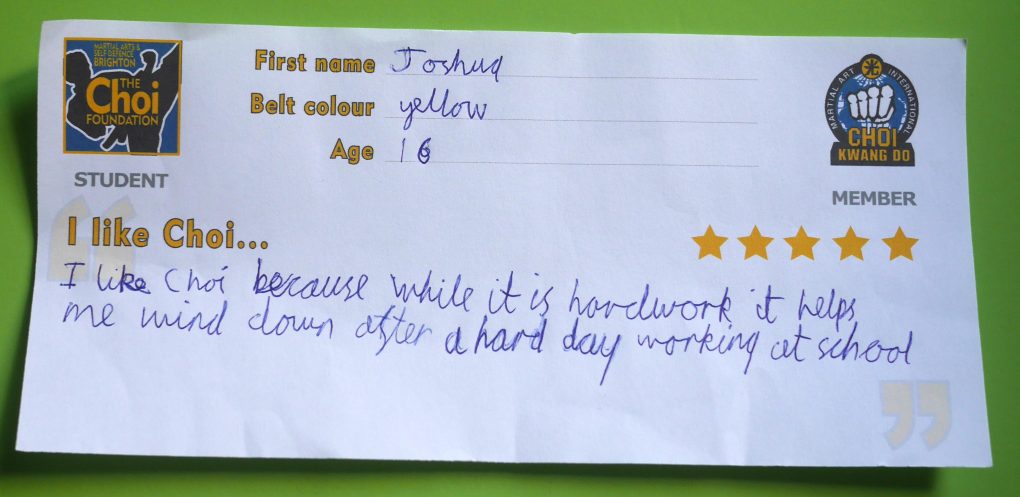 "I like Choi because while it is hard work it helps me wind down after a hard day working at school."
Joshua, Yellow, aged 16, February 2018
---
Contact Robert for your free trial lesson.

To add your testimonial please use the 'Leave a Reply' box below, thank you, Robert.